Boogie Bounce

Fitness App
Over 100 Dance inspired, choreographed trampoline exercise routines
On Demand mobile app with 100+ Routines to choose from.
New dance inspired choreographed routines released every month.
Multiple programmes available such as Box n' Bounce and Strength & Tone.
Build strength and tone up with a smile on your face.
Cast to a Smart TV and bring the Boogie Bounce atmosphere home.
Invite the class into your home through our Boogie Bounce App
The Boogie Bounce Trampoline Exercise App contains over 100 routines with new ones added each month. Get the most out of your mini trampoline by joining our enthusiastic and motivational instructors as they guide you on your fitness journey, it's almost like having a live trampoline exercise class in your home!
There are trampoline exercise routines for everyone, with simple low intensity routines and exercises for beginners, up to advanced energetic trampoline exercise programmes for more experienced bouncers.
With a huge catalogue of dance inspired, choreographed routines, as well as strength and conditioning and resistance bands workouts, the Boogie Bounce App is your go-to library for fast and effective rebounder workouts!
Track your trampolining exercise progress through our App
We're so proud of our App and it's so easy to use! We wanted to make each home trampolining exercise experience as close to a live class environment as possible, but with a few added features such as tracking your progress on your App. You can also manage subscriptions to additional programmes and track your progress in your Boogie Bounce Profile.
You can even search for local class if you want to experience the Boogie Bounce class environment. It's the world of Boogie Bounce in your phone!
Something for everyone – no matter what level
Boogie Bounce routines are designed with all shapes, sizes and fitness levels in mind. All our trampoline exercise routines include less intense options while you build your fitness levels, flexibility and balance. If you're totally new to rebounding or exercising, just start with our three beginner routines until you are confident to move on.
Our trampoline instructors love helping bouncers get the most out of their workouts. Their personalities and love for what they do shine through in our app workouts. Join them and be encouraged every step of the way to find an enjoyment in exercise that you never knew you could!
…and for the more advanced bouncer…
Ready to take your trampolining exercise training to the next level? Add additional programmes to your app access, for a small additional monthly charge (and we mean really small). Get access to programmes like Strength & Tone, HIIT and Boogie Bands; and challenge your body with a variety of training methods.
Learn more about the Boogie Bounce Trampoline Exercise Programmes here.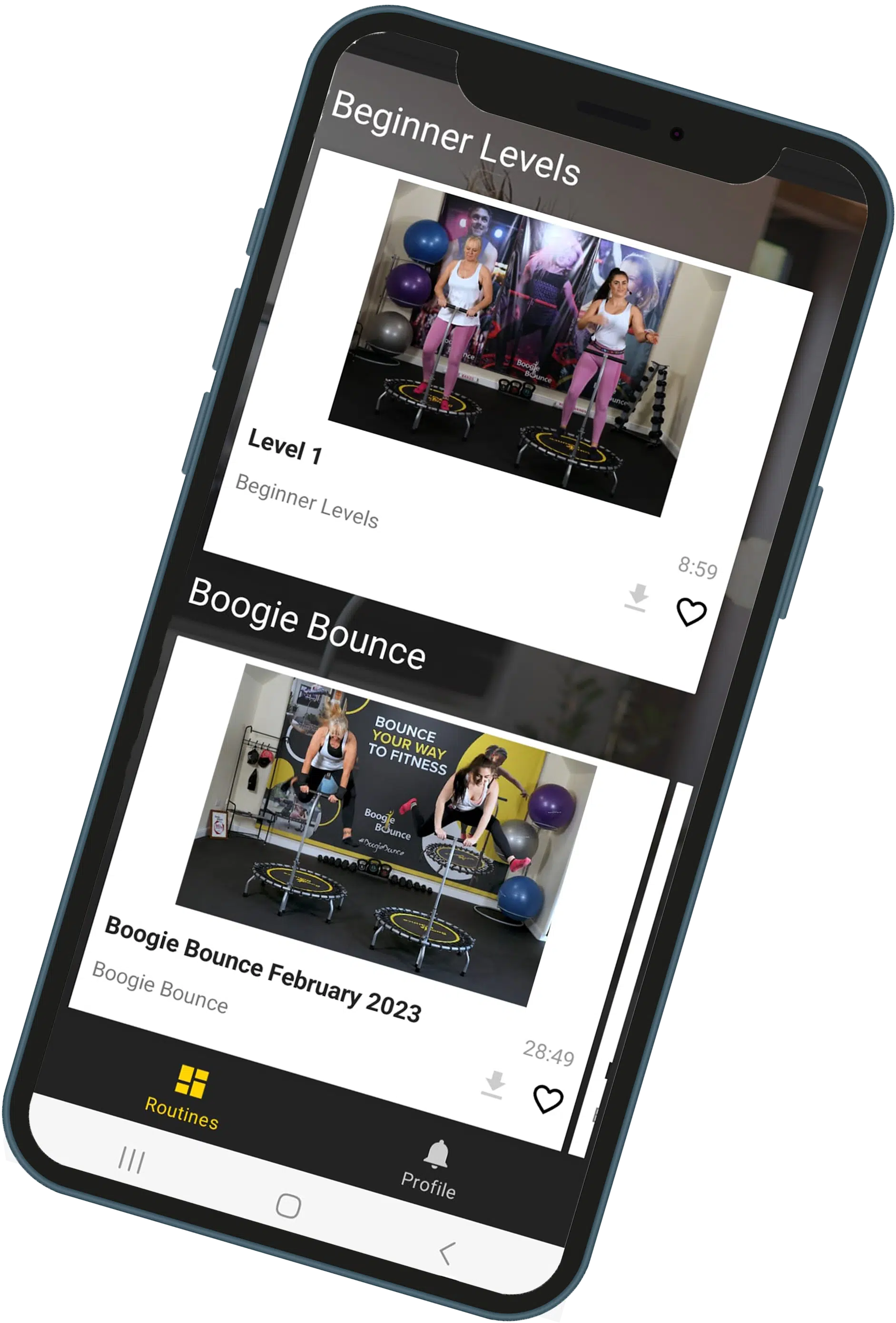 Our fitness app contains over 100 routines and is updated every month. Join us for Boogie Bounce and other dynamic programmes such as Strength & Tone and enjoy greater variety and cross-training benefits in your workouts. Watch it on your TV as you work out in your own living room!
There is something for everyone, with simple short exercises for beginners, up to advanced energetic programmes for those who want a gym style workout.
From Just £1.99 per month