Donna recently got in contact to let us know how rebounding helped her fight back against diabetes and lose weight in the process and we are overjoyed at her story.Donna combined our beginners' level routine with some other simple lifestyle changes and saw incredible results in a matter of weeks! I commenced with two 10-minute Boogie Bounce routines every day to ease me into exercising. I combined these routines with a simple daily 30-minute walk and slightly tweaked my eating habits. Within 12 days I lost 3.5kgs (more than half a stone!) I was absolutely thrilled with this weight loss and my energy levels are increasing. I'm feeling so much better in myself and the key motivator for me is the Boogie Bounce workout.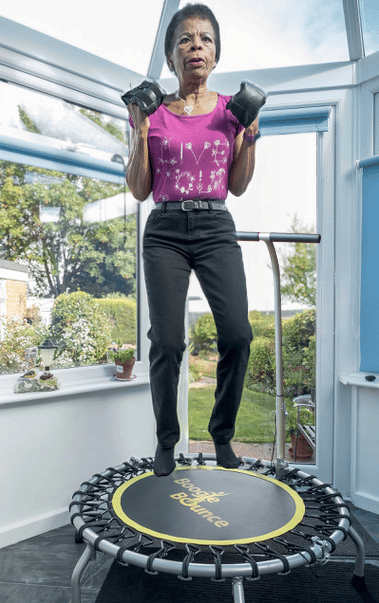 Christopher & Coralin's
Story
Christopher is 80 years of age and an active Chiropodist. His wife Coralin is 77 years old and a retired nurse. Christopher says 'I came across rebounders when researching exercise to help oedema in the feet and legs. I then had the task of which one. In the end the Boogie Bounce Elite met my requirements for its size, easy storage by folding in half and bungie type springs for quietness. 'We have fallen in love with our Boogie Bounce, it not only helped with the oedema but also with balance, stamina and general fitness.'
Heather was a passionate runner, but an unresolved knee injury meant she had to give up her favourite form of exercise. She tried multiple other forms of training, but found that they either aggravated her knee, or she simply didn't enjoy them. That's when she was introduced to Boogie Bounce. "A friend said we should go to Boogie Bounce, and I fell in love with it!  It doesn't bother my knee at all. I'm just so glad that I found something I can do, that I actually enjoy and doesn't bother my leg." Heather now feels fitter and loves the diversity of the Boogie Bounce workouts. Click the link and learn more about her story.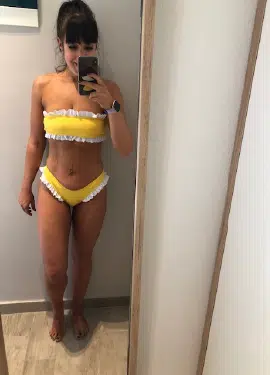 Striding confidently across the stage in a £600 bespoke bikini and high heels, to the sound of tumultuous applause, Jessica Long beamed with pride. Behind her, on a giant screen, flashed an unflattering picture of her from just two years earlier, when she was unfit and overweight, weighing 13 and a half stone. And the secret weapon behind her transformation? A mini trampoline! "I've literally bounced my way to health, happiness, confidence and a brand new career," says Jessica, 33, of Berkhamsted, Hertfordshire, who is now a full time fitness instructor.
Caroline Cunningham's
Story
Being called porky by a colleague was the incentive that busy working mum Caroline Cunningham needed to take up exercise. "I was mortified at the time," she says now. "But, looking back, it's the best thing that could have happened. In fact, I'd love to find her and say 'thank you' – because without her I'd still be overweight, unhealthy and miserable."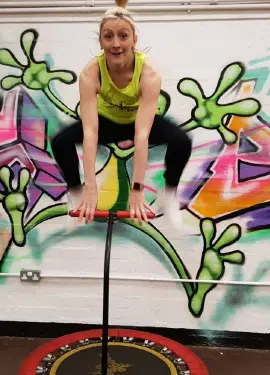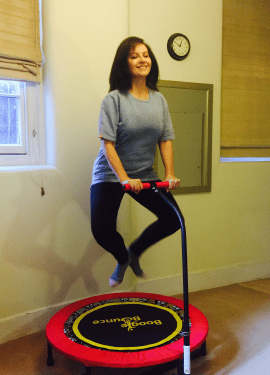 Caroline Flint has a spring in her step this January – thanks to a healthy Christmas present from her husband. The former MP for Don Valley was thrilled to unwrap a Boogie Bounce mini trampoline on Christmas morning. Caroline, 56, mum to three grown up children, is now improving her fitness by starting each Parliamentary day with an obligatory bounce.
Pictures are one year apart, she has been determined for a while and has lost 5 and half stone – a balanced diet and Boogie Bounce 2-4 times a week. I am proud of how far she has come in just one year!
This is Becky Louise, she has been bouncing with us 3 times a week and has made a fantastic transformation! As you can see she has lost weight and is looking fab! But she's also improved her cardio week on week. She kills her workouts and eats healthily!
In September 2006 Kelly weighed 15.7 stones and was a size 22, in January 2007 Kelly decided enough was enough and now was the time to make some big lifestyle changes. Thanks to finding Boogie Bounce and sensible dieting Kelly is now half the woman she used to be. She went from a size 22 to a size 10-12 and has now lost 5.7 stones. She was so impressed with her fitness results that she now runs her own very successful Boogie Bounce Business.
WORKOUTS TO DO AT HOME OR IN THE GYM
Boogie Bounce is the sensational, high energy, dance inspired exercise programme, to get fit and lose weight on a high quality trampoline and T-bar handle.
We believe that people are much more likely to stick to an exercise programme if it is fun, engaging, and doesn't feel like exercise. We instil this attitude within our wonderful instructors worldwide.
If fitness classes aren't for you, then join our motivational instructors from your home and work out using our foldable trampoline and Boogie Bounce App.