PUTTING THE PARTY BACK INTO POLITICS


– FORMER MP CAROLINE FLINT DISCOVERS THE SHEER JOY OF BOUNCING…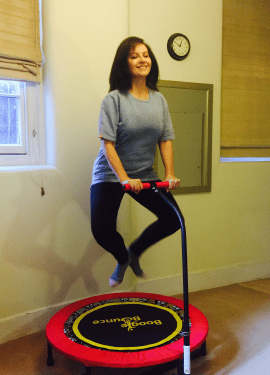 Caroline Flint has a spring in her step this January – thanks to a healthy Christmas present from her husband.
The former MP for Don Valley was thrilled to unwrap a Boogie Bounce mini trampoline on Christmas morning.
Caroline, 56, mum to three grown up children, is now improving her fitness by starting each Parliamentary day with an obligatory bounce.
The former Labour MP admits the gift wasn't a complete surprise. "I'd read an article on Boogie Bounce and thought it sounded great – a mixture of cardio and dance which I've always loved – that I could do at home."
"As I work long hours and split my time between Doncaster and London it can be difficult to fit in going to a gym or fitness classes on a regular basis.
"So I asked Phil if he could buy me this for Christmas. I think he was relieved I had something in mind as I'm not a great person to buy presents for.
"The trampoline is in my London flat so I can use it whenever I have a spare few minutes," says Caroline, who has held the same seat for 20 years.
"It's very easy to set up, doesn't take up too much room, and is light and easy to move around. Fortunately, my flat is on the ground floor so I'm not bouncing above somebody's head which would probably annoy them!
"The T-bar handle is really helpful and gives you confidence. The music and routines on the accompanying home kit DVD are great. I'm pretty flexible as I used to dance when I was younger," she adds.
The low impact nature of the exercise has been particularly beneficial in helping her to overcome a knee injury, she says.
"I fell over a month or so ago and have been left with an aching left knee so the bouncing is really good for that.
"It was a stupid fall – I was coming down the stairs at home, missed the last step and ended up banging my knee on my tiled hallway. I've been stretching it and it's just about worn off but you don't want to aggravate it. I'm in my 50s and you have to think about these things a little bit more!"
Caroline is hopeful that bouncing may fill the gap left by the demise of Division Belles – the Parliamentary tap dancing troupe she founded in 2004.
"It was a group of women of all shapes and sizes – both MPs and wives of MPs and we had that going for quite a few years. We were led by a qualified teacher; your focus is purely on the steps and what you are doing and listening to the music.
"When you work in a situation which can be quite stressful and tiring doing something that stops you thinking about work and jobs to do is great – and that was one of the good things about tap dancing.
"We did routines to songs from Chicago and Cabaret and a couple of charity performances but, sadly, MPs stepped down or moved on to ministerial posts, and it's no longer going."
"For me exercise is about enjoyment. I'm old enough to remember Jane Fonda and her fitness videos and it was all about 'feel the burn'. Obviously, you have to develop exercise and build up so that it stretches you but fun is an important part of it.
"It's just having that time where you can focus on what you are doing by bouncing, following the movements and listening to the music.
"So far, it's been great. I've been pacing myself and increasing the time I'm spending on the trampoline – managing 10-15 minutes of pure bouncing each morning before heading into Westminster. That's the good thing about it. You can do bite size chunks and make sure you're getting the moves right and build up to the full routines when you feel more confident."
Bouncing is more strenuous than it looks, she admits. "You don't realise how much it's working you until you do it," she says. "But it's quite tiring. You certainly feel you have done something afterwards."
Caroline now has a second Boogie Bounce kit set up at home in Doncaster so she can continue bouncing over the weekends – and is encouraging the rest of her family to take up bouncing, too. "My daughter think it's great and says 'make sure you carry on with it, Mum'.
"My husband, Phil, is also my constituency manager and I keep saying to him 'you should get on this, too.'
"When Parliament isn't sitting, and I'm confident on my home 'set up' I'd love to attend some classes," she said. "But for now it's far easier for me to do my own thing when I can – which is why the home kit is so great."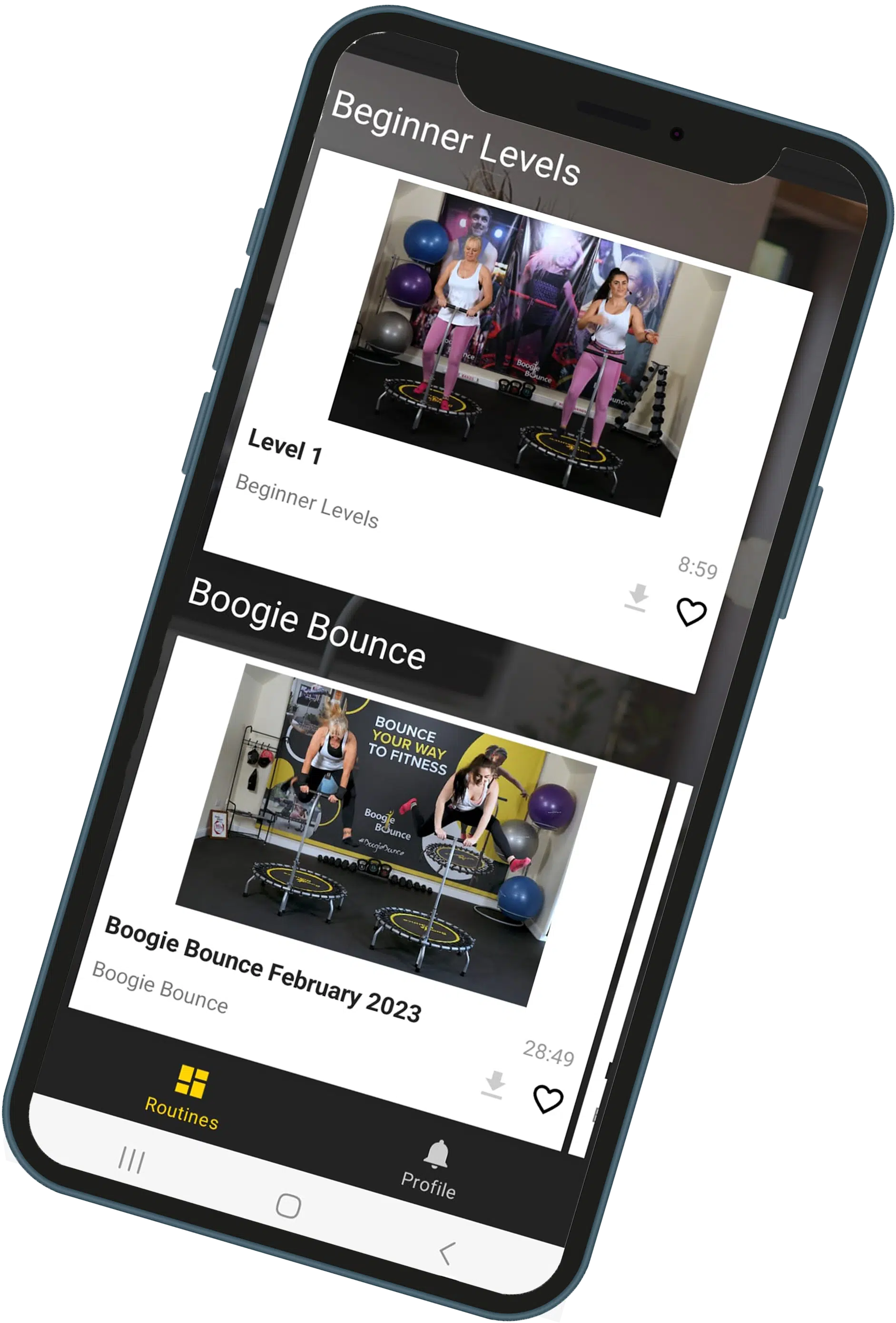 Our fitness app contains over 100 routines and is updated every month. Join us for Boogie Bounce and other dynamic programmes such as Strength & Tone and enjoy greater variety and cross-training benefits in your workouts. Watch it on your TV as you work out in your own living room!
There is something for everyone, with simple short exercises for beginners, up to advanced energetic programmes for those who want a gym style workout.
From Just £1.99 per month
WORKOUTS TO DO AT HOME OR IN THE GYM
Boogie Bounce is the sensational, high energy, dance inspired exercise programme, to get fit and lose weight on a high quality trampoline and T-bar handle.
We believe that people are much more likely to stick to an exercise programme if it is fun, engaging, and doesn't feel like exercise. We instil this attitude within our wonderful instructors worldwide.
If fitness classes aren't for you, then join our motivational instructors from your home and work out using our foldable trampoline and Boogie Bounce App.