"I BOUNCED MYSELF INTO A BIKINI"


– JESSICA LONG'S TWO YEAR TRANSFORMATION INTO SCULPTED FITNESS GODDESS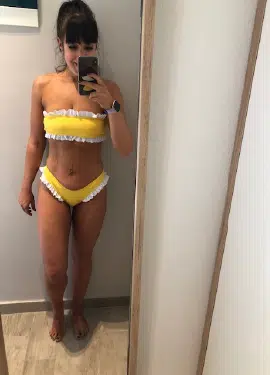 Striding confidently across the stage in a £600 bespoke bikini and high heels, to the sound of tumultuous applause, Jessica Long beamed with pride.
Behind her, on a giant screen, flashed an unflattering picture of her from just two years earlier, when she was unfit and overweight, weighing 13 and a half stone.
And the secret weapon behind her transformation? A mini trampoline!
"I've literally bounced my way to health, happiness, confidence and a brand new career," says Jessica, 33, of Berkhamsted, Hertfordshire, who is now a full time fitness instructor.
Taking part in the 'transformation' category of the Pure Elite bikini, fitness and muscle model competition this spring was a dream come true for Jessica.
"Until that moment, I had never, ever, felt good in a bikini," she explains. "But I was so proud of my body and all it had done for me I wanted to show it off. I absolutely love that bikini – sometimes I just want to put it on to do the housework!"
Jessica had been fighting an ongoing battle with her weight for 20 years. "From the age of 13 I was on a diet trying everything from Slimfast to the Atkins diet.
"To make things harder my older sister, Clare, and mum, Lorraine, are naturally slim. (Sadly, her father died in a car crash when she was just three months old).
"Being overweight, I hated exercise and PE lessons. Our school was obsessed with cross country running and I'd do anything to get out of it."
After leaving school at 17, Jessica embarked on a career in hospitality. "Running bars, recruiting chefs and pub food meant long, irregular, hours – and even more weight gain. Pub meals out are a luxury for most people but I had them every day. Even side orders of vegetables and salad were drenched in butter or oil.
"On my days off, I'd binge on copious amounts of junk food like a microwave burger, family bag of Dorito's, and bumper bar of chocolate. Pick and mix sweets were my downfall."
Then, in March 2016, Jessica decided to lose weight once and for all. "I vowed that this wasn't going to be yet another a fad diet – but a completely new lifestyle. As well as eating healthily I knew I needed to find an exercise I'd enjoy."
Soon after enrolling in Slimming World, Jessica found it. "I saw a Facebook video of a Boogie Bounce class – showing women bouncing on mini trampolines, with handles, to funky music," she recalls. "I remember thinking 'that looks awesome!'"
"I went to my first class in Amersham, Buckinghamshire, and just fell in love. My weekly Sunday Boogie Bounce class quickly became the highlight of my weekend."
Jessica charted her progress on an Instagram account to help her stick to her goals. "It started as a food diary but quickly evolved into a documentation of my weight loss journey," she recalls.
"In the first week I didn't lose any weight at all but went on to lose one or two pounds a week.
"I told myself 'you've always been chunky and curvy – you're never going to be slim.' I just wanted to get to 11 stone so was amazed to carry on and reach 10 stone. I felt and looked a million times better – and even found the confidence to leave an unhappy relationship."
Working with a personal trainer and introducing weights into her fitness regime saw Jessica tone up and shed another half a stone. "The first time I got into a pair of size 8 jeans, I cried in the fitting room," she remembers.
"It was then I decided to compete and show that real, normal, girls like me can look good in a bikini. It's not just for those who are genetically blessed.
"When followers started asking me for advice and even asking if I'd train them. I decided to qualify as a personal trainer and Boogie Bounce instructor.
"I was terrified of giving up my job until my boss took me aside saying: 'We don't want to lose you but you need to follow your dreams.' I handed my notice in and have never looked back."
One year on, Jessica runs four Boogie Bounce classes a week at the Civic Centre in Berkhamsted High Street. "One class is quite late on a Thursday evening and I can't sleep afterwards – I'm absolutely buzzing.
"I love seeing bouncers blossom as they get fitter and healthier over the weeks – just like I did – and there's a great, friendly atmosphere.
"I love my body for what it's done and how far it's got me. One of my clients recently said to me: "It's ok for slim people like you. You don't know what it's like to be overweight'.
"I told her 'yes I do! And if I can do it, you can too." I'm passionate about helping other women achieve their dreams."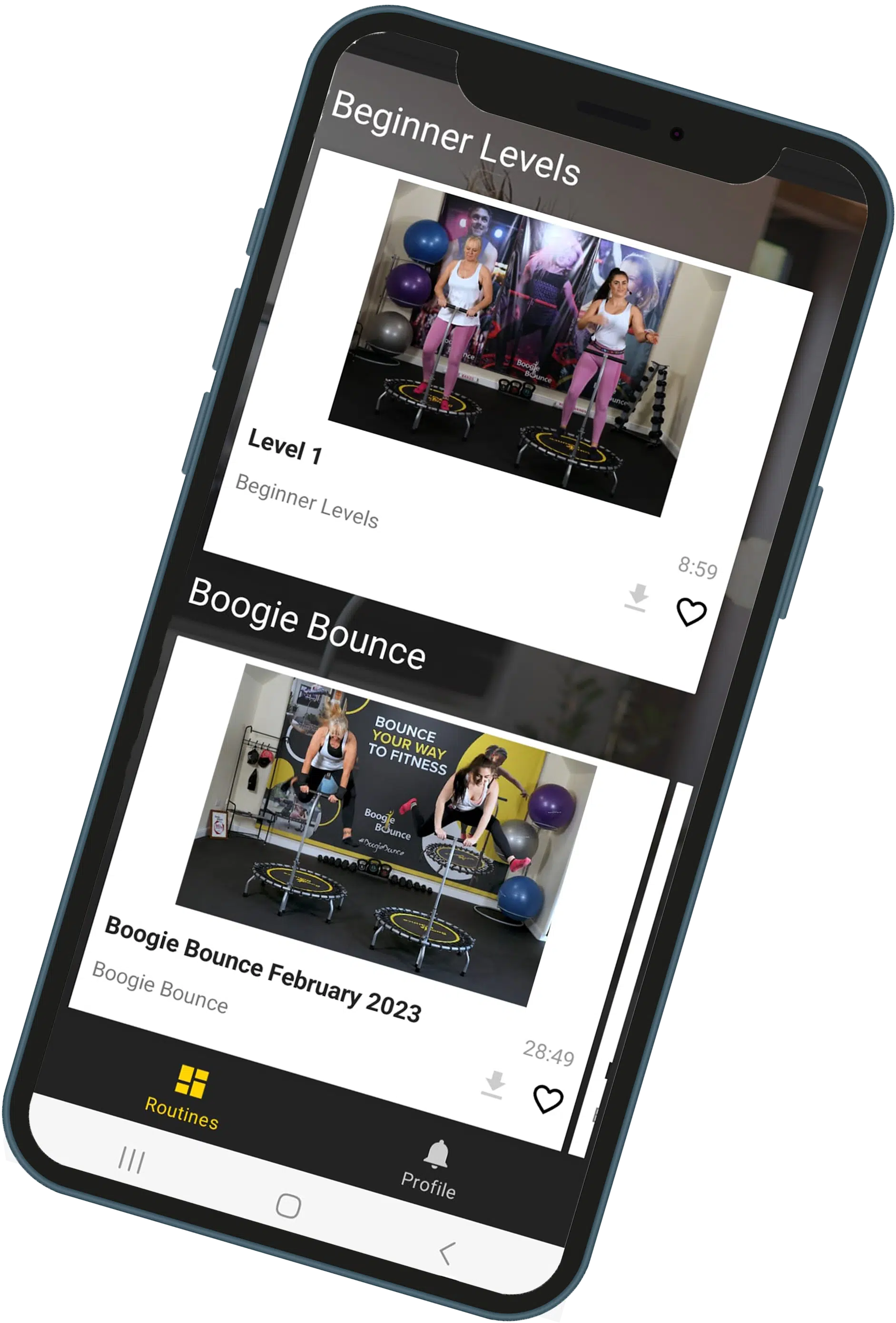 Our fitness app contains over 100 routines and is updated every month. Join us for Boogie Bounce and other dynamic programmes such as Strength & Tone and enjoy greater variety and cross-training benefits in your workouts. Watch it on your TV as you work out in your own living room!
There is something for everyone, with simple short exercises for beginners, up to advanced energetic programmes for those who want a gym style workout.
From Just £1.99 per month
WORKOUTS TO DO AT HOME OR IN THE GYM
Boogie Bounce is the sensational, high energy, dance inspired exercise programme, to get fit and lose weight on a high quality trampoline and T-bar handle.
We believe that people are much more likely to stick to an exercise programme if it is fun, engaging, and doesn't feel like exercise. We instil this attitude within our wonderful instructors worldwide.
If fitness classes aren't for you, then join our motivational instructors from your home and work out using our foldable trampoline and Boogie Bounce App.