They say that age is just a number, and Coralin and Christopher epitomize that notion.
These two dedicated bouncers contacted Boogie Bounce to let us know how much rebounding on their Elite Mini Fitness Trampoline has benefited their lives.
Christopher is 80 years of age and an active Chiropodist. His wife Coralin is 77 years old and a retired nurse.
Christopher says 'I came across rebounders when researching exercise to help oedema in the feet and legs. I then had the task of which one. In the end the Boogie Bounce Elite met my requirements for its size, easy storage by folding in half and bungie type springs for quietness.
Christopher also says that the low cost and high quality of the Elite trampoline helped sway his decision.
He continues to say 'We have fallen in love with our Boogie Bounce, it not only helped with the oedema but also with balance, stamina and general fitness.'
Boogie Bounce is a fantastic full body workout.
Rebounding forces you to engage your core muscles and build strength in your lower body; both of which are critical to balance – especially as we get older.
'Neither of us were very active during our younger years. Both of us have had surgery for spinal stenosis and suffer from osteoarthritis. We realised that we had to improve our fitness.'
Boogie Bounce offers a low-impact, highly effective workout that is kinder on your joints and more beneficial for you fitness levels than other forms of exercise.
We're so happy that Coralin and Chrisopher have found Boogie Bounce so useful to improving their health, and just goes to show – Boogie Bounce really is for all ages, abilities and fitness levels.
Our mobile app has a whole beginner section that new Bouncers can work their way through before starting the full routines. Learn more about it here.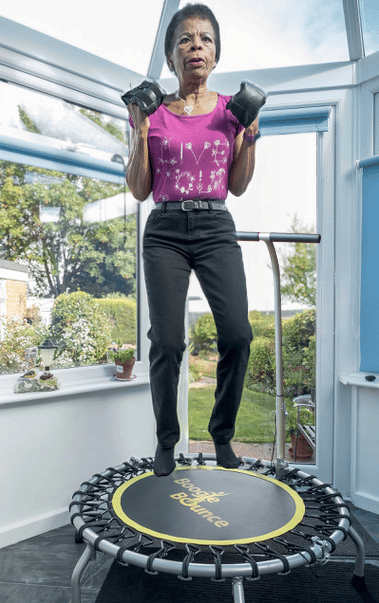 If you are unsure it is always important to check whether Rebounding is suitable for you and any health conditions you may have, so please always speak to your health care professional.
The Boogie Bounce Elite is Folding, Easily Stored, Silent and Low-Impact, so it might just be exactly what you have been looking for – just like it was for Chrisopher and Coralin.
If you have any questions that we can help with, please contact us on:
Tel: 0121 354 1190
Email: [email protected]
Ready to join us?
Sale!
Now: £139.00
Find Out More
Sale!
Now: £109.00
Find Out More