Who said controlling your weight has to be hard work? We developed the Boogie Bounce Concept to make meeting your fitness goals and weight loss targets fun!
Rebounding on a Boogie Bounce Fitness trampoline makes weight loss an effortless activity and part of your day that you will look forward to. Who says a healthy lifestyle shouldn't be fun?
The proof is already out there in our amazing community of Boogie Bouncers. We have heard so many success stories from people who have achieved their weight loss goals after they started the Boogie Bounce Concept and invested in their first folding, lightweight fitness trampoline.
Why choose Boogie Bounce for your rebounding weight loss journey?
Rebounding can help transform both your body and life. Whether you are focused on toning up your belly, dropping a dress size, or firming up your body, a mini-trampoline is the fun solution. It is the only exercise you will need to achieve all of these goals, improve your mental health, have fun and so much more!
Bouncing on the fitness trampoline helps you to burn fat quicker than many other boring, repetitive, and laborious exercises like running or even power walking. This is why it is so popular with people trying to lose weight.
It is also low impact, making it easy on the joints. We've heard too many horror stories of bad knees from running. A rebounder can help with the healthy loss and control of weight, all whilst looking after your joints. In our opinion, this shouldn't be a compromise!
Unlike other exercises, it also fits effortlessly into your life without you having to make drastic changes (or even leave your home):
The Boogie Bounce fitness trampolines fit into your schedule
It can get you results faster than other exercise programs
You can do it from the comfort of your own home
It makes exercise fun
It gives you a cardio workout and helps build muscle, and can even strengthen and tone
Boogie Bounce rebounders are also a gym in a bag that fits behind your sofa!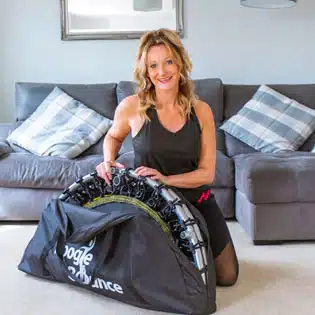 Did you know that If you do ten minutes of rebounding a day you can get the same calorie burn results as running for 30 minutes? We know which is more fun and convenient!
Lose weight your way with Bounce Fitness.
A Boogie Bounce Rebounder opens up a world of workouts to you from the comfort of your own home and at a moment's notice.
You can rebound in short bursts (even while the kettle boils for the morning coffee). Dinner in the oven? Why not work up a real appetite and take a bounce on your mini trampoline instead of staring at your phone while you wait?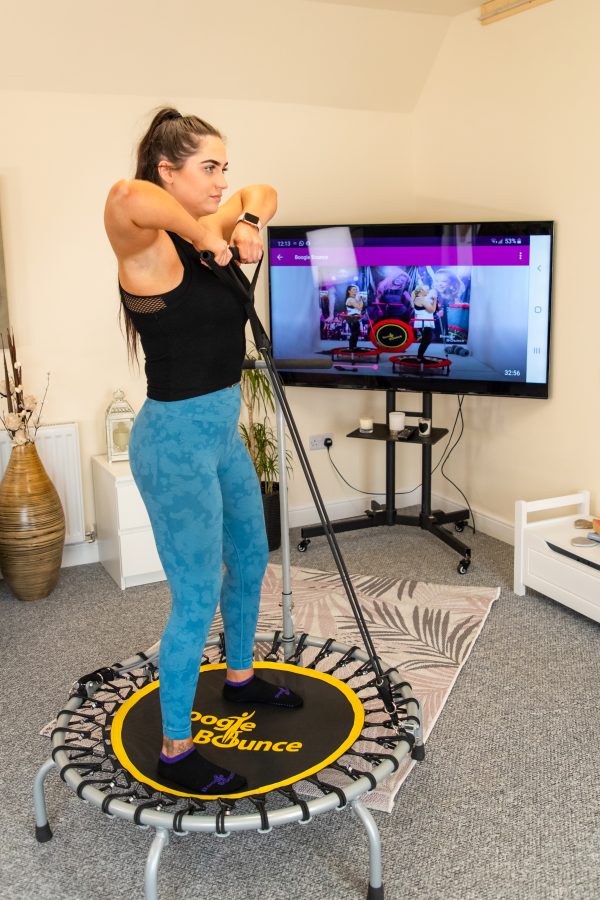 It's that easy to fit fitness on a trampoline around your lifestyle and achieve your weight loss goals. Each day you'll complete exercise in a time that would have normally been time wasted standing around.
Jam-packed day? You can spread rebounding out as early, late, or in the middle of the day as you need. Your rebounder is ready the minute you are.
One of our favourite quick routines for weight loss: 5 minutes in the morning, 5 minutes at lunchtime (if you work from home), 5 minutes while dinner is in the oven. That's 15 minutes a day already!
We're willing to bet that is already an improvement on what you're doing now. When teamed with some simple changes to your diet and other low impact exercises like walking, it can easily help you hit your weight loss goals.
How to lose weight rebounding on a mini trampoline
By now you're probably realising that rebounding to help meet your weight goals is super adaptable to your schedule, ability, energy levels, timeline, and more. Start easy and build up as your confidence grows. You go as hard as you want.
You can begin slow by bouncing on the spot and then build yourself up to our Boogie Bounce app exercise videos. We've even added beginner programs to help you learn the basics. Check out more workouts on our Youtube channel for a better idea of what it is you could be doing.

Are you ready to bounce? Try this exercise on your mini trampoline:
Music and bouncing are the perfect partners. They will help you physically and mentally. Give it a try – put on your favourite song and start bouncing! Challenge yourself to see if you can bounce until the end of the song.
As you get fitter you can start to lift your arms up and down or even try some high knees. It's totally adaptable to you.
What is your weight loss anthem going to be? 
Fun Fact: Did you know that using a fitness trampoline can be better for you than running? This is because it is a low impact exercise that goes easy on the joints while building muscle and improving stamina. 
This weight loss fitness trampoline comes with its very own app!
That's right! The Boogie Bounce app contains thousands of exercise and fitness videos covering all workout types. From weight loss to HITT, strength and toning to cardio. There is something for every goal and every ability.
You are more likely to stick to a program if it is enjoyable, fun, and varied. Rebounding ticks all of these boxes!
"Perfect for anyone wanting to take control".
Find out Laura's reasons for giving Boogie Bounce a try and why she hasn't stopped since. ​​
Weight loss exercises you can do on the Boogie Bounce rebounders
Our Mini trampoline selection isn't just for bouncing. You can use it to do all kinds of other exercises including Trampoline, HIIT, cardio, strength, toning, and more.
The use of a rebounder is super reassuring when your confidence is low.
This really is a gym in a bag to help with all your fitness goals, not just weight control.
Did you know: Our app is updated with new rebounding exercise routines every month so you can mix the exercise up. There are already thousands to choose from as well as specific programs for HIIT, cardio, strength, toning and more. Variety is the spice of life after all!
Rebounding changed Jenny's life and that is why she created the Boogie Bounce Concept and the mini foldable exercise trampolines. She is proud to have already helped 1,000s of people in the UK and around the globe reach their weight loss goals!
So are you ready? The Boogie Bounce Concept was created to help people lose weight in a fun and effortless way. If you are ready to jump with us then click here to order your fitness trampoline today. 
Ready to join us?
Sale!
Now: £139.00
Find Out More
Sale!
Now: £109.00
Find Out More