In a world full of stress, obesity, diseases, and everything else we are having to deal with right now – it's always a great idea to start a workout routine at home to get your body working and your mind engaged with something positive.
Why? Because a 2021 research found that more than 1 in 3 adults in Europe were found to be physically inactive. Such a high number is definitely not a thing to be proud of, but at Boogie Bounce, we've found a solution for you! [i]
If you are someone who doesn't love to go out to the gym and perform those unexciting strenuous workouts, don't worry!
You can now start full-body exercises at home that are far more fun than regular exercise!
Keep on reading to find the best workout for beginners at home.
How To Start Work Out For Beginners At Home?
No need to get an over-priced gym membership that you will barely use! You can now get the gains and benefits within the comfort of your home. But first, starting a fitness programme at home will require you to do some research and will take lots of patience.
Here's your guide to finding the best workout for beginners at home!
1.    Slow And Steady Wins The Race!
The key to entering the fitness world is to start slow. Begin will low-impact cardio exercises that can help you increase your fitness level slowly. If you indulge in a too high-intensity, high-impact workout right off the bat, you are more likely to get muscle cramps, soreness and fatigue.
Start with a 10-minute full-body workout and then slowly move towards a 15 – 20 minute workout for beginners at home. This slow pace will help your body adapt to the new movements without causing much discomfort. Boogie Bounce Beginner Levels are available on the Mobile App, allowing you to progress at your own pace.
You can keep increasing the time and intensity as you get better!
2.    Finding the Right Fitness Routine
It's important to determine the type of exercise you are interested in. Are you interested in cardio, like rebounding, or resistance training like weight training?
We recommend you try different exercises and research their benefits to understand which one suits you the best.
You can also join the Boogie Bounce community to get access to 100+ workouts to do at home or in the gym!
3.    Finding the Right Equipment
If you want to begin 'hands free' and not get any equipment – it's totally fine! But if you want to vamp up your fitness routine, investing in your favorite workout equipment might be a good idea.
Once you know which exercise works best for your goals, you can easily invest in good-quality equipment like a Elite Mini Trampoline. One mini trampoline can provide you with a wide variety of exercise options like low-impact exercises, high-intensity training, strengthening and toning, and it even allows you to work out with your kids.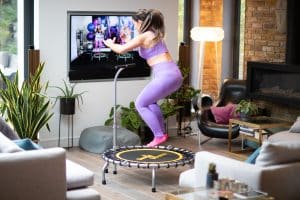 Reasons Why Rebounding Might Be the Best Full-Body Exercise At Home
Rebounding with Boogie Bounce is a great dance-inspired workout for beginners at home! You can perform this low-impact aerobic exercise while jumping or dancing on a mini-trampoline. It allows you to work your body, engage your cardiovascular system, and increase your endurance without burdening your joints.
It has loads of health benefits like,
Aids in weight loss
Helps with diabetes
Combat bone disorders like osteopenia and osteoporosis
Increases bone density and decreases bone resorption [i]
Strengthens core, back, and joints
Stimulates lymphatic flow and much more!
The best thing about rebounding is that, unlike the boring gym exercises, you get to dance and bounce your way to fitness and a healthy lifestyle!
Visit the link below to find out more Benefits of Rebounding.
[i] Bunyaratavej, N. (2015). A comparison between the effects of aerobic dance training on mini-trampoline and hard wooden surface on bone resorption, health-related physical fitness, balance, and foot plantar pressure in Thai working women. J Med Assoc Thai, 98(8), S58-S64.
[i] Nikitara, K., Odani, S., Demenagas, N., Rachiotis, G., Symvoulakis, E., & Vardavas, C. (2021). Prevalence and correlates of physical inactivity in adults across 28 European countries. European Journal of Public Health, 31(4), 840-845.
Image 2
Ready to join us?
Sale!
Now: £139.00
Find Out More
Sale!
Now: £109.00
Find Out More