Why do some trampolines have handles?
It's a question that has long puzzled many – whether it is parents buying their child their first trampoline or adults discovering rebounding for themselves, why do some exercise trampolines have handles? There are a number of reasons for this and we're going to explore them all.
Trampolines are a great way to get some exercise, but as with any exercise equipment, they can be dangerous if not used correctly. That's why many trampolines have handles – to help keep you safe while bouncing.
We're going to look at: 
Whether you are brand new to bouncing and need the extra stability, or a seasoned pro looking to execute some more challenging moves, a handle can help add variety and impact to your routines. They're built to offer extra assistance to you, no matter your ability, age, weight or workout type.
Trampoline manufacturers, such as Boogie Bounce, add handles as a safety feature because they offer additional support to help keep the jumper in the centre of the trampoline. You are far less likely to fall off the trampoline, as the handle keeps you focused on the correct area of the trampoline for bouncing without touching the edges, dramatically reducing the possibility of injury, tripping or falling.
The handle bar allows for increased stability and opens up a workout to new possibilities! It gives everyone, no matter what age, ability or fitness, the confidence to bounce. 
Here are 5 examples of how handles on your exercise can help when you thought rebounding might not be for you.

1. Trampolines with handles for exercise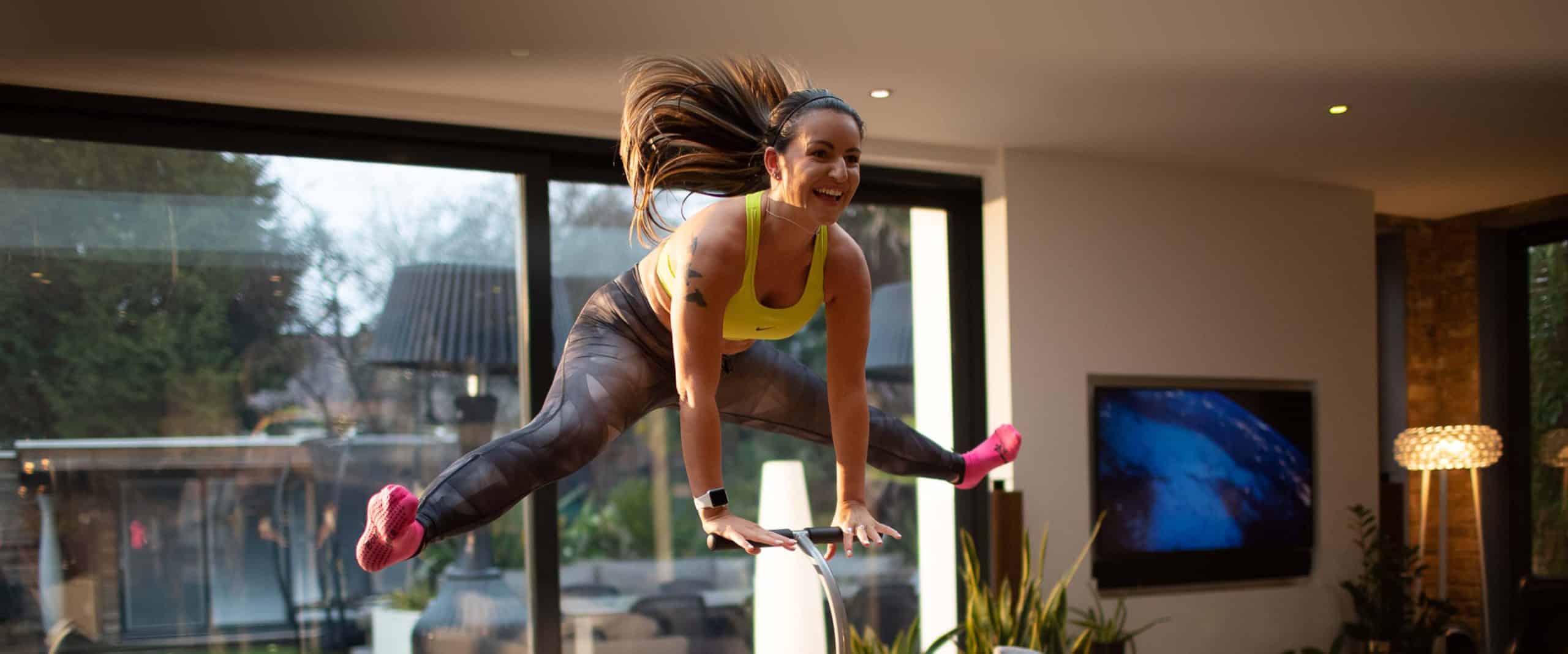 Most people would agree that trampolines are a lot of fun. What you may not know is that they can also be great for your health! In addition to the cardiovascular benefits from this low-impact workout, trampoline bouncing also helps improve your balance and coordination. That's why we've created a trampoline with handles – to make this activity even more beneficial and accessible.
If you're looking for an effective, low-impact workout, then a trampoline with handles is perfect for you!

2. Trampolines with handles to help you lose weight
Trampolines with handles are the latest trend in exercise equipment, and for good reason: they're incredibly effective at helping you lose weight. In fact, studies have shown that trampolining is one of the most efficient forms of cardiovascular exercise there is. Add to this the fact celebs that are known for their buff bodies, including Peter Andre, have a Boogie Bounce Elite in their home gym!
It works your heart and lungs, but it also tones your muscles and helps improve your balance and coordination. So if you're looking for a way to get in shape, then a trampoline with handles is definitely the way to go.
Are you looking to lose a few pounds but struggling to find the time and energy to hit the gym? Have no fear, trampolining is here!

3. Trampolines with handles for your mental health
As well as losing weight and generally keeping in good overall physical health, a recent study by the National Centre of Biotechnology Information concluded that bouncing on a mini trampoline can not only help to lose weight but can also reduce blood pressure and help with overall mental health!
If science says bouncing will help with our mental health then we're grabbing that handle with both hands! 
Source: https://pubmed.ncbi.nlm.nih.gov/27441918/

4. Trampolines with handles for safety
The popularity of trampolines has been booming since the 1950s when there were dedicated Jump Centres at every gas station in the United States. Times have changed but the desire to bounce remains and has been increasing in recent years, especially for fitness purposes.
According to Direct Line Insurance, over 3 million people are injured at home on trampolines each year. Pretty crazy right? So to help address these safety concerns and to ensure that your bouncing remains fun and safe at the same time, the trampoline with handles was introduced, and at Boogie Bounce it's the only sort we recommend and sell.
The handlebar offers additional stability whilst bouncing, and for new users means their fun can start right away with little to no tuition or experience.  And for those recovering from injury, it can offer additional support to minimise the impact on the joints and ligaments whilst building muscle and losing weight.
Lower impact, peace of mind, fun, safe workouts for all!

5. Trampolines with handles for variety
Have you tried Jazzercise, Yoga, Zumba, and all those other fitness fads to try and stay in shape? 
Most lose their appeal as soon as you have the appropriate lycra outfit and you've attended the class enough times to realise everyone else there is already a fitness fanatic who looks like a swimsuit model.  So why not try something different that you can do in the comfort of your own home if you prefer, at your pace, and achieve the results you want fast!
With new programmes being added and a huge back catalogue of routines to get you going, it's going to be a long time before you ever think about giving up the bounce. 
Which is the best mini trampoline with handles to buy?
First, you need to decide how much space you have for your trampoline. If you have limited room, then you may want to opt for a mini trampoline such as the Boogie Bounce Elite Mini Trampoline.
Some of the larger outdoor trampolines can be great fun, but we have found the mini trampoline with its safety handle offers the most fun way to bounce, get fit and lose weight, whilst taking up the minimal space and reducing any risk of damage to your body or the surrounding area. It's ready to go all year round and has a super diverse range of workout routines.
Boogie Bounce is a complete exercise programme with H.I.I.T (High-Intensity Interval Training) programmes using the Boogie Bounce mini trampoline with a T-bar handle, routines for kids, step aerobics, strength and tone and more!  All are inclusive, low impact and above all, FUN!
Find out more about the Boogie Bounce concept.
Want to find out more?
If you need any questions answered or to discuss how you would like to purchase or take part in the Boogie Bounce programme, please contact us today on 0121 354 1190. You can also message us on our socials or check out some of our most popular pages below! 
Socials:
Useful Links:
Ready to join us?
Sale!
Now: £139.00
Find Out More
Sale!
Now: £109.00
Find Out More